| | |
| --- | --- |
| Elands bay | 75KM |

| | |
| --- | --- |
| | This seaside resort is a paradise for surfers, seafood connoisseurs and birdwatchers. The variety of different soil types ensures prolific flora during spring when the flowers change the area into paradise. Caves in the vicinity of the town produced valuable archeological finds from the different inhabitants over time. The magnificent Verlorenvlei which flows into the Atlantic Ocean at Elands Bay (Elandsbaai) is a haven for about 240 bird species. |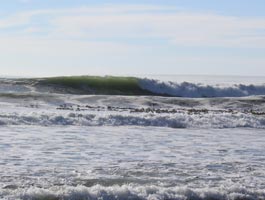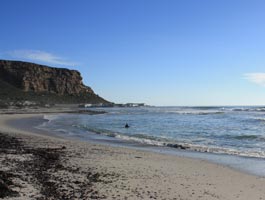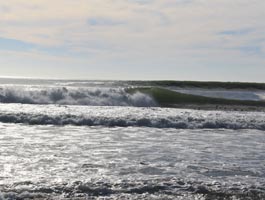 | | |
| --- | --- |
| Hopefield | 36KM |

Hopefield is a wheat and sheep farming centre on the banks of the Sout River. It is known for its spectacular displays of wild flowers in and around town, as well as for the fossil deposits, which can be seen at the Fossil Museum. Two of the farms on the outskirts are maintained as National Heritage sites.

The Dutch Reformed Church congregation is over 150 yrs old, while the Church building in town is 92 years old.

Hopefield celebrated being in existence for 150 years in 2003. It is the oldest town on the West Coast.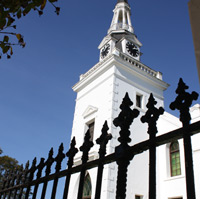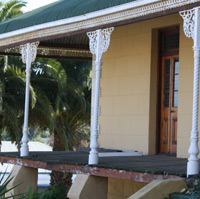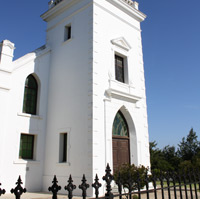 | | |
| --- | --- |
| Jacobs bay | 34KM |

| | |
| --- | --- |
| The isolated hamlet of Jacobsbaai, just north of Saldanha Bay, is less than 90 minutes' drive from Cape Town along the R27. Locals and tourists alike call this area 'Namaqualand by the sea' and the countryside around Jacobsbaai does indeed turn into a wildflower tapestry in spring | |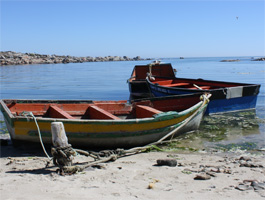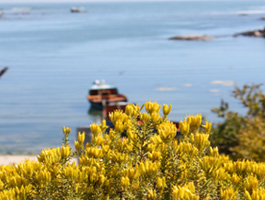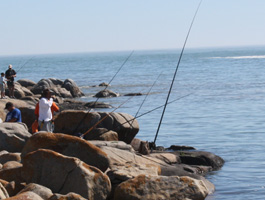 | | |
| --- | --- |
| Lamberts Bay | 85KM |
Lambert's Bay is known as the Diamond of the West Coast and the crayfish mecca of South Africa. Snoek is also available during a snoek run which takes place a couple of times during the year. Boats from all over the West Coast flock to the town to catch this fish which has also become more popular. Lamberts Bay is also famous for its long stretches of uninterrupted white beaches and abundant marine life which gathers in the cool blue waters.



Tourism office:

027-432 1000 / Website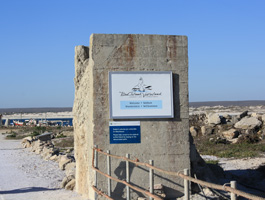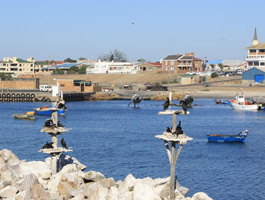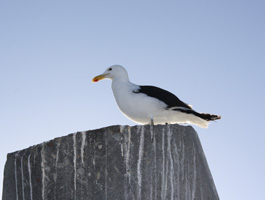 | | |
| --- | --- |
| Langebaan | 28KM |

| | |
| --- | --- |
| Langebaan is an idyllic little seaside town on the South African West Coast. It is located at the edge of the tranquil Langebaan lagoon, just over 120kms North of Cape Town. The seasons on the West Coast are hard and dramatic – but that's part of their charm. The jewel of the West Coast towns, Langebaan, will leave you with memories of startling blue sea, acres of spring flowers and the enticing smell of fish braai's. | |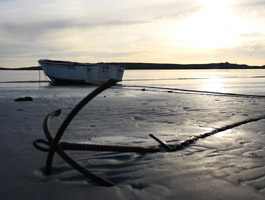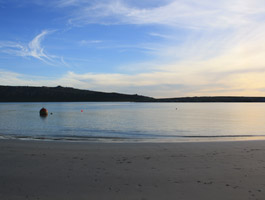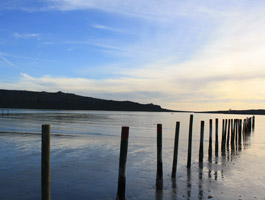 | | |
| --- | --- |
| Paternoster | 36KM |

The perfect "off the beaten track" breakaway is Paternoster. Becoming well known as the St Tropez of South Africa, Paternoster remains a charming old fishermen's village along the West Coast, just a casual one and a half hours' drive North of Cape Town, where past and present meet.

In Latin Paternoster means "Our Father". It derived its name from the prayers of ship-wrecked Portuguese sailors.

The people who live on this coast are hospitable, warm and nurturing of their religion and visitors always leave with fond memories. Enthusiasm and passion make the destinations, professional venues and the magnificent scenery unforgettable.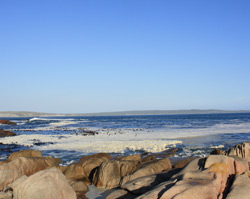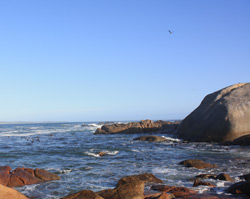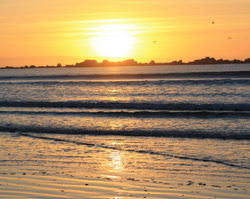 | | |
| --- | --- |
| Veldrif | 20KM |

| | |
| --- | --- |
| Velddrif is situated some 2 km upstream from where the Berg River flows into the sea at the Bay of St Helena. The name Velddrif came into existence when a farmer, Theunis Smit, took his stock through a drift in the veld, to find grazing across the river. The animals often had to swim across the river. Later on, in 1899, a pont was built, which was the only means of crossing the Berg River. | |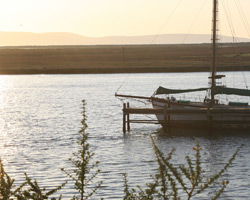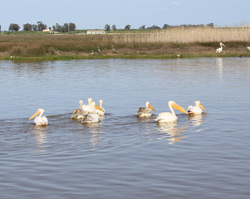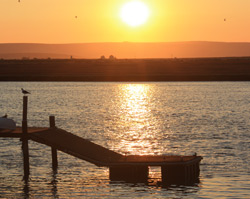 | | |
| --- | --- |
| Yzerfontein | 60KM |

| | |
| --- | --- |
| Yzerfontein is an unspoilt fishing villlage on South Africa's west coast, which typifies the natural beauty and simplicity of the area. The town is laid out around a rocky cape and harbour. Yzerfontein is best known for its tranquility, west coast hospitality, sixteen mile beach, spring flowers and breathtaking views. | |